JumiaPlus is a professionally built E-commerce platform that is suitable for shopping malls, online stores, or people seeking to move their businesses online or interested sell their products and services to a global audience. The website has an ultra-modern design style like that of the big e-commerce companies like Jumia, Amazon, Glovo, Alibaba and others.
Why Get JumiaPlus?
Now that you know who JumiaPlus is suitable for, The next question becomes why should you get one?
Which of the following accurately describes you and your business?
You own a brick and mortar store and are considering adding an e-commerce component to the store where people can purchase in-store and online and have items locally delivered or shipped directly to them.
You own a brick and mortar store but want to close it and sell strictly online.
You plan to launch an online store only to sell physical or digital products or services or both.
You are struggling with sales lately and want to sell regionally, nationally or internationally to reach a lot of customers.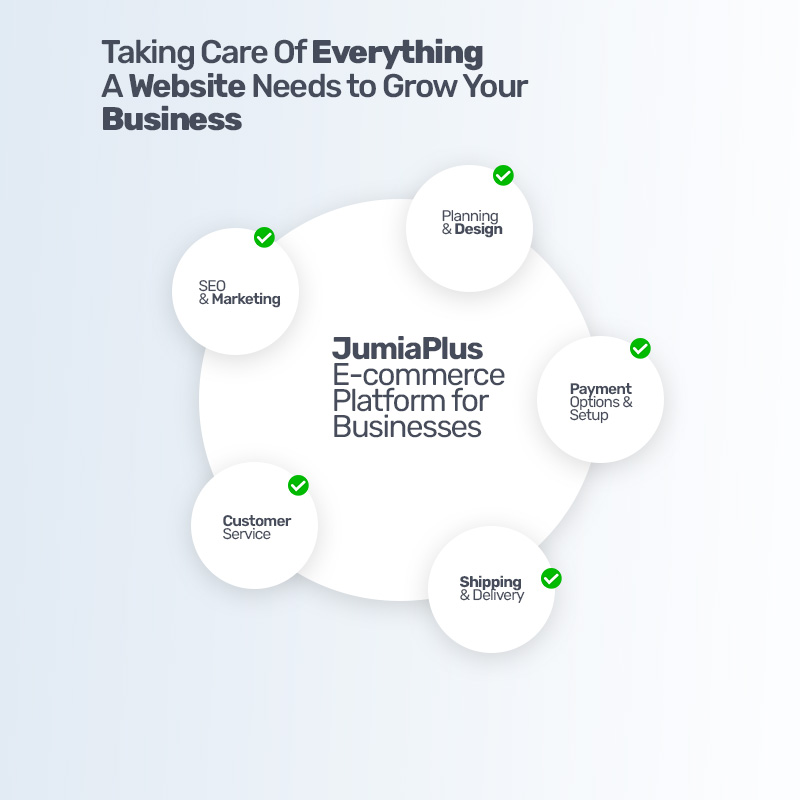 Planning & Design: Our team of Designers will help you plan from the initial stage of the design process to the completion stage to make sure everything work well for you. If it requires us to generate an available domain name for you, help you choose the right hosting and even to get your logo designed, We will make it happen!
Payment Options & Setup: We will help you get all the necessary requirement for you to receive payment online through Visa, Mastercard, Paypal, Verve, American Express, MOMO etc and help you setup a payment gateway for your website.
Shipping & Delivery: Setting up shipment or connecting you to a delivery method adds up to the amazing features we have as part of ordering this website.
Customer Service: We have setup email notification system for your website that sends receipts to customers, give discounts customers and others ways that seeks to improve customer service.
SEO & Marketing: We setup one-time SEO on all the most important pages and make the entire website friendly to Search Engines bots. We will the website to Google Analytics, integrate mailchimp for Email Marketing and connect your website to social media. We have other available marketing packages you can subscribe to, that will help your website grow within a short period of time.